Today i'm going to write about a revolutionary piece of technology that not only marks the change of times, but that also marks evolution: Remote Control Cars for Kids
Long gone are the days where children played with wooden toys, teddy bears and board games. As humanity evolves, so does children's playing environment and processes, technology being the the main of it. The perfect example is exactly as the title says, remote control cars (RC Cars).
Vehicles are pieces of technology that we use regularly, and children see this all the time. In movies, games, images, cartoons (and many more) vehices are used by all. Lots of kids love to go with their parents to the supermarket or school because they love to drive with them.
Let's talk how the process works. Remote control cars are toy cars that can be controlled by remote, by anyone.   It's quite simple, but let's just look a bit deeper into it.
The remote itself is connected to the car by a radio-frequency link (which receives very fast signals from the user) to control its movements. Normally, the car is powered by batteries, some by gas (normally the gas types are more used by adult RC enthusiasts), and some also have recheargeable electric motors.
Now to the core: How does it affect children?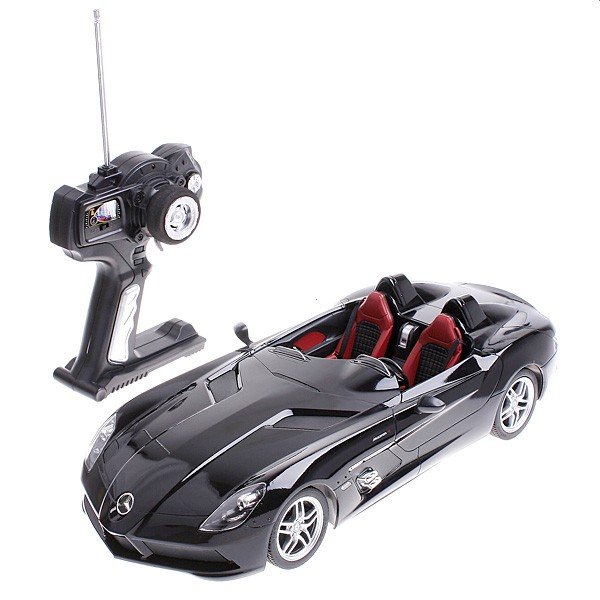 Even simple technologies like this (simple according with today's modern world) changes how children think and react. Using RC Cars (and others) introduces youngsters to our modern world, growing with this new type of toys makes them used to our era and it may even spark some love for technology (becoming our future scientists, programmers and other professionals). I may be getting a little ahead, but it's a very reasonable thought.
I will give a simple example. A young kid plays with his RC Car, and it have a lot of fun. But as he grows, or even when he begins to play with it, he thinks: "Why do every time I push this button, the car moves?". And we all know children are curious (which goes back to what I wrote about them becoming future tech professionals). This simple thought process changes youngsters thinking pattern, which makes their brain evolve faster and stronger. Heck, even he might develop a great hobby, for example driving a gas powered radio control car has never been more thrilling.
Until now, RC Cars look like a healthy technological toy! But, as with everything, there are some downsides.
One downside is lack of social bonding. In times before, children played with each other, building things, running and climbing. But for example, when a kid has a RC Car at home to play, why should he get out? It's boring. So they simply will stay at home. This won't happen if they have balance between their duties, playing times, and friend times though. Balance is key.
Another downside is linked with the first: Isolation. It's self explainable. If the kid just want to play with his car, he won't have too much friends.
These are the most common ones. I will repeat: Balance is key. However, it doesn't affect negatively so much as video games and computers, which brings addiction, leading to other problems. Fortunately, this is not the case.
So, to conclude, this article had a much deeper side to it. It explained the good things and the bad things that Remote control cars for kids may cause. After all, it's a modern piece of technology. The world is changing, and it is important for us to understand how to take care of our future generations.